Aboriginal Participation in Construction (APiC) is a NSW Government policy designed to encourage the construction industry to create opportunities for Aboriginal people, and Aboriginal-owned businesses and communities.
HCCDC encourages Aboriginal participation in all stages of project design and delivery. As part of our tender process, we require contractors to implement policies, recruitment practices and training activities to increase the participation of Aboriginal people in construction or engineering-related roles.
We believe that an increase in Aboriginal participation is achievable in all stages of a project.
We encourage broad community engagement at the inception of, and throughout the delivery of a project. We also encourage ongoing engagement with Local Aboriginal Land Councils and Aboriginal corporations and groups.
We support our partners in delivering greater participation through hiring targeted roles, offering training and apprenticeships, and engaging certified Aboriginal-owned suppliers or service providers. We see the results of their collaboration with artists, designers and cultural performances in many of the projects delivered. 
As well as working with our project partners, HCCDC is also delivering more cultural capacity and awareness training to employees. 
---
Mount Penang Parklands
We encourage our construction partners to create Indigenous-targeted positions, delivering community benefits that last beyond project completion.
In Mount Penang, Bolte Civil created an Indigenous apprenticeship for a project in 2020, employing local worker Josh on a three-year apprenticeship.
Josh returned to the site in 2022 as part of our latest infrastructure upgrades and is well on his way to a Cert III in Civil Construction.
---
PSG Holdings
PSG Holdings is a 100% Indigenously owned business, with a quarter of staff being of Indigenous heritage. We are proud to have worked with PSG Holdings to repair and make safe the former Wickham School of Arts building in Honeysuckle.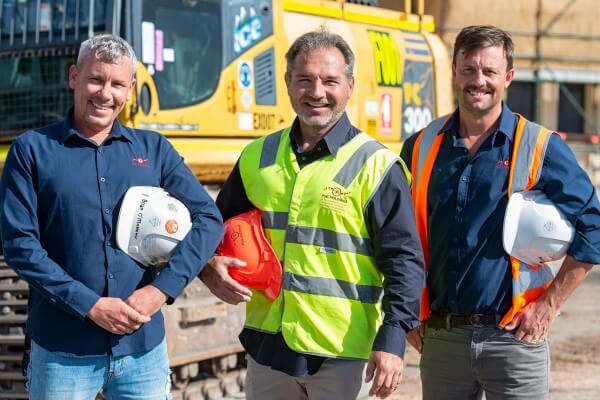 The construction and services company aims to increase Indigenous participation through both direct employment of Indigenous people and sub-contracting of Indigenous-owned businesses, or those with high levels of Indigenous employment.
PSG's approach and commitment to advancing business opportunities, industry and partnerships and employment opportunities for Indigenous Australians truly reflects their vision of 'achieving Reconciliation through business'.
---
Leagues Club Park, Gosford
The Darkinjung Local Aboriginal Land Council played an integral part in Gosford's Leagues Club Park design.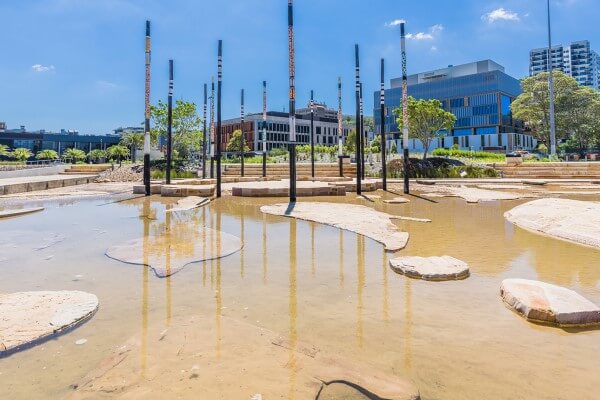 Local Aboriginal culture was imbued into the site's centrepiece, a circular gathering space formed by large timber poles. These are adorned with stunning designs by a local artist and will create a unique space for the community to gather, relax and learn.
Leagues Club Park's tidal terrace is also filled with sandstone animal 'islands' inspired by the nearby Bulgandry art site, that are covered and exposed as the tide rises and falls.
---
The Station, Newcastle
A key feature of The Station's piazza is an Aboriginal interpretive artwork that also serves as a unique meeting place. We worked with the Awabakal Local Aboriginal Land Council to create designs that reflect Newcastle's First People and their relationship with the land and the harbour.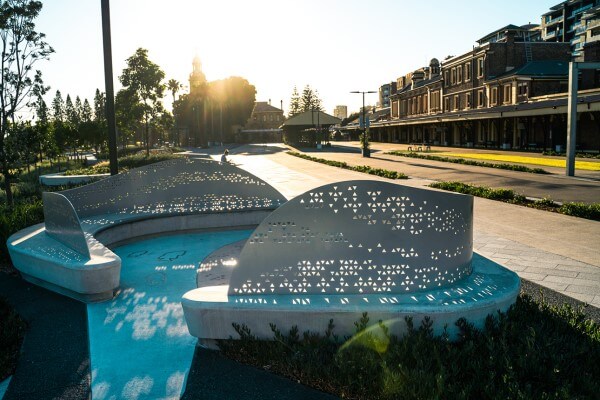 Seating is arranged in a boomerang configuration, while stencilled designs represent tide lines and the importance of Newcastle harbour as a food source. Fish, crustaceans and land animals are represented, and an illuminated 'fire pit' glows red after dark.
---
Cultural storytelling
We collaborated with local artist Raymond Kelly Jnr. for the creation of this storytelling artwork - a tribute to the significant waterways of the Hunter and Central Coast, and their connection with the regions mangroves, grasslands and mountain ranges.
Raymond's art highlights the importance of the natural landscape and the cultural significance of mountain ranges across the region - referencing the rich soils that allow for healthy plant and grass growth, and the minerals, insect life and tree root systems that work in balance creating sustainable environments. 
The storytelling art is a tribute to the local Aboriginal communities who occupied the lands alongside the water, and their connected understanding of science and nature. Natural water elements including river stones and pebbles, sand grains, seaweed and sea ferns are depicted, along with the natural sand patterns that occur due to environmental changes including wind, tidal shifts, fires and seasons. It celebrates traditional hunting skills and natural food sources provided by the ocean, inland river systems and lakes - including mussels, oysters and an abundance of fish.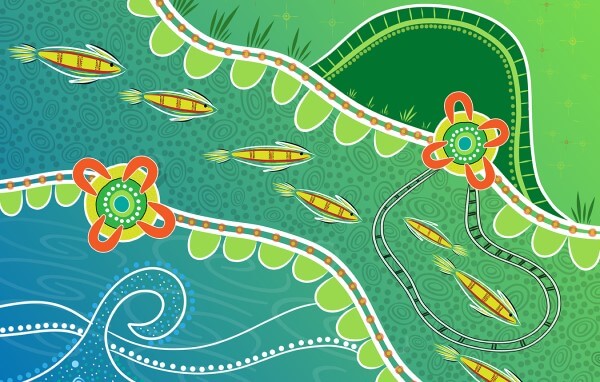 Meet the artist: 
Raymond Kelly Jnr. is a proud Awabakal, Dunghutti and Pambilang man living in Newcastle NSW. 
Ray's passion for community, family, local heritage and country is celebrated through his contemporary art and photography style, along with his work at the University of Newcastle's Wollotuka Institute.  We were honored to collaborate with Ray and have him share his local knowledge and creative interpretation of Country with us.​​​​​​