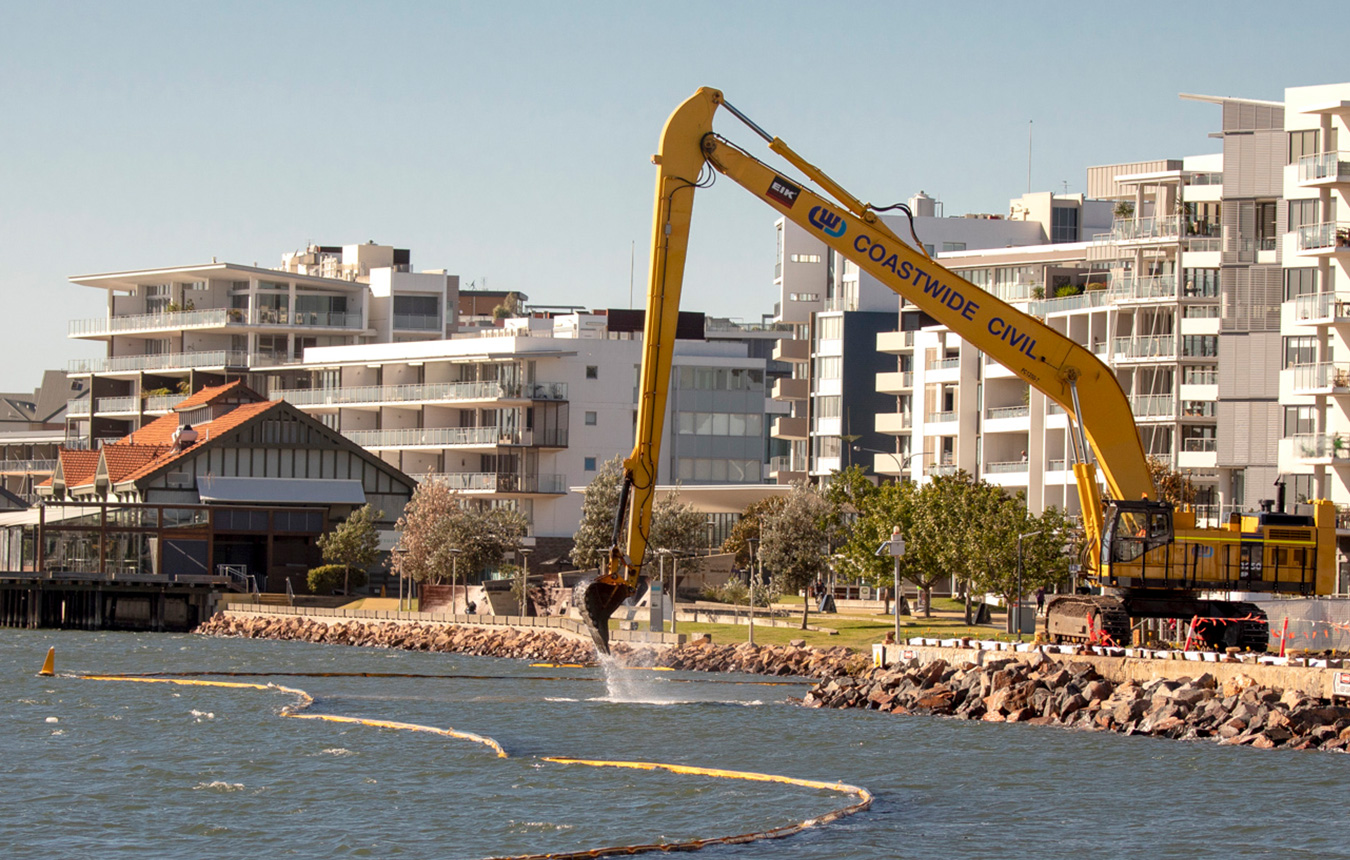 Seawall works
Important seawall works are now underway in Honeysuckle at Lee 5 and Throsby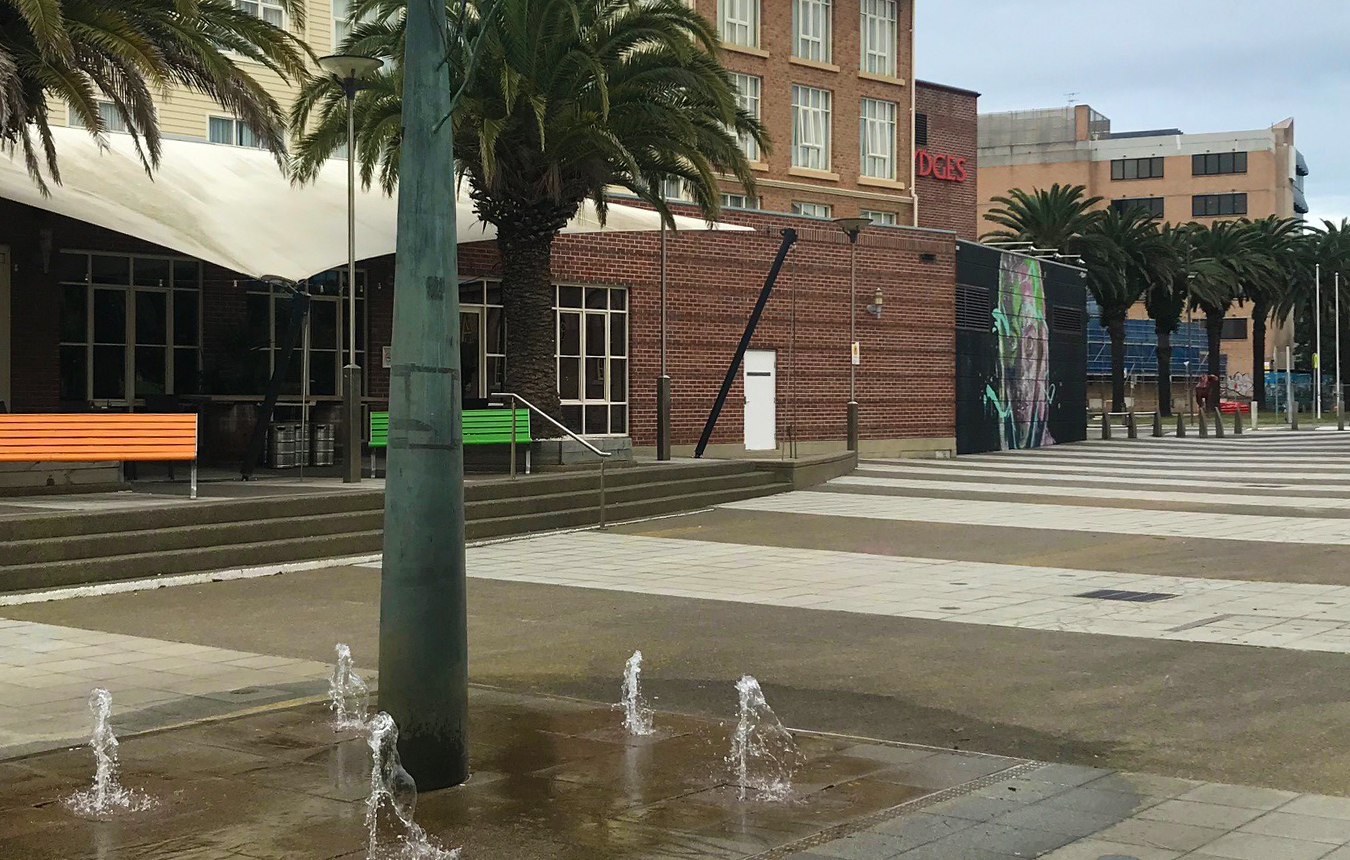 Water feature upgrades
Water feature upgrade works have commenced in Honeysuckle's Harbour Square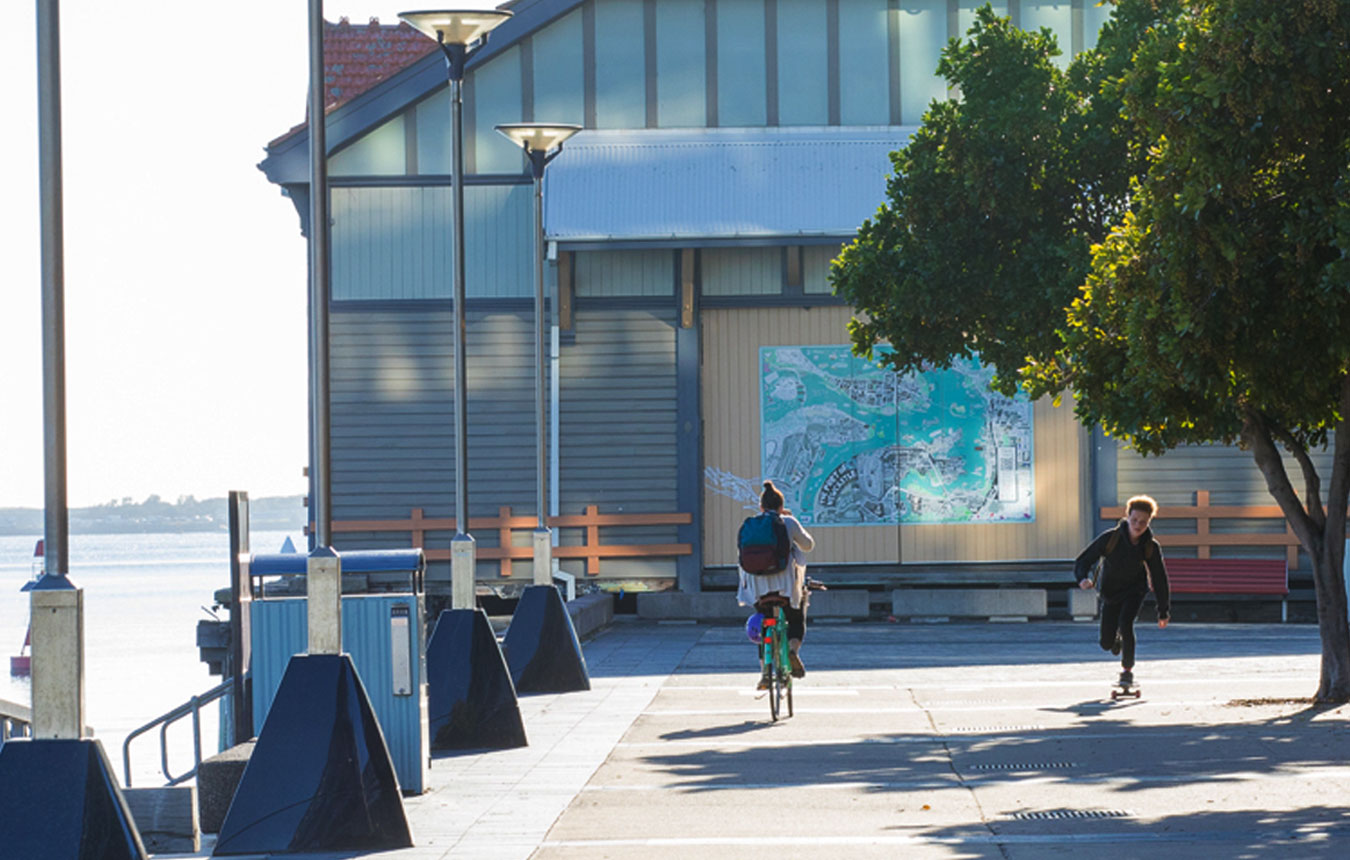 Promenade diversion
A new temporary promenade for pedestrians and cyclists is now in place.
Work is underway to rebuild the 75 year old Harbour seawalls at Lee 5, followed by the Throsby seawalls. These new seawalls are the first step in the delivery of attractive green spaces and new public domain in Honeysuckle. 
Works commenced in April 2019 including:
cutting and removing existing Lee 5 concrete wharves;

delivery of 160,000 tonnes of rock to site; and

placement of rock in harbour to form new seawalls.
Work is expected to take around 18 months to complete. 
Whilst it is anticipated that these works will be noisy at times, a work method has been established to minimise noise and disruption as much as possible.
To make navigating through construction zones as easy and safe as possible, we are installing new wayfinding signs in Honeysuckle and the city centre.
The 28 distinctly purple signs are designed to help you get around whether travelling by bike, scooter, car or on foot.
Vehicular signs are positioned at major entry points into Honeysuckle, to guide the traffic entering and travelling through the precinct. The pedestrian signs help decision making when walking to your destination and show the estimated time to walk there. For cyclists, the signs outline the best route to destinations.
The signs also include key locations, points of interest, and nearby transport options.
Image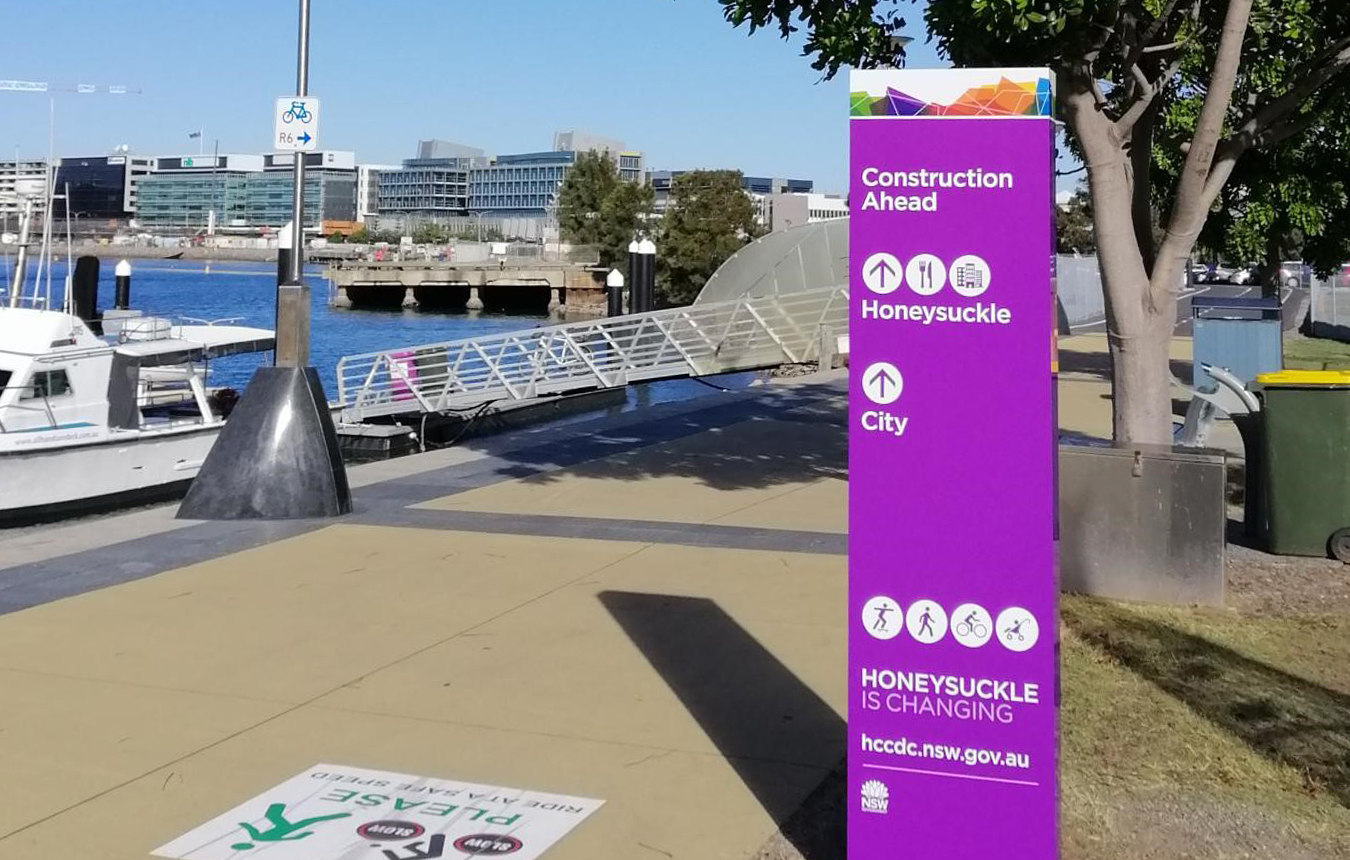 Image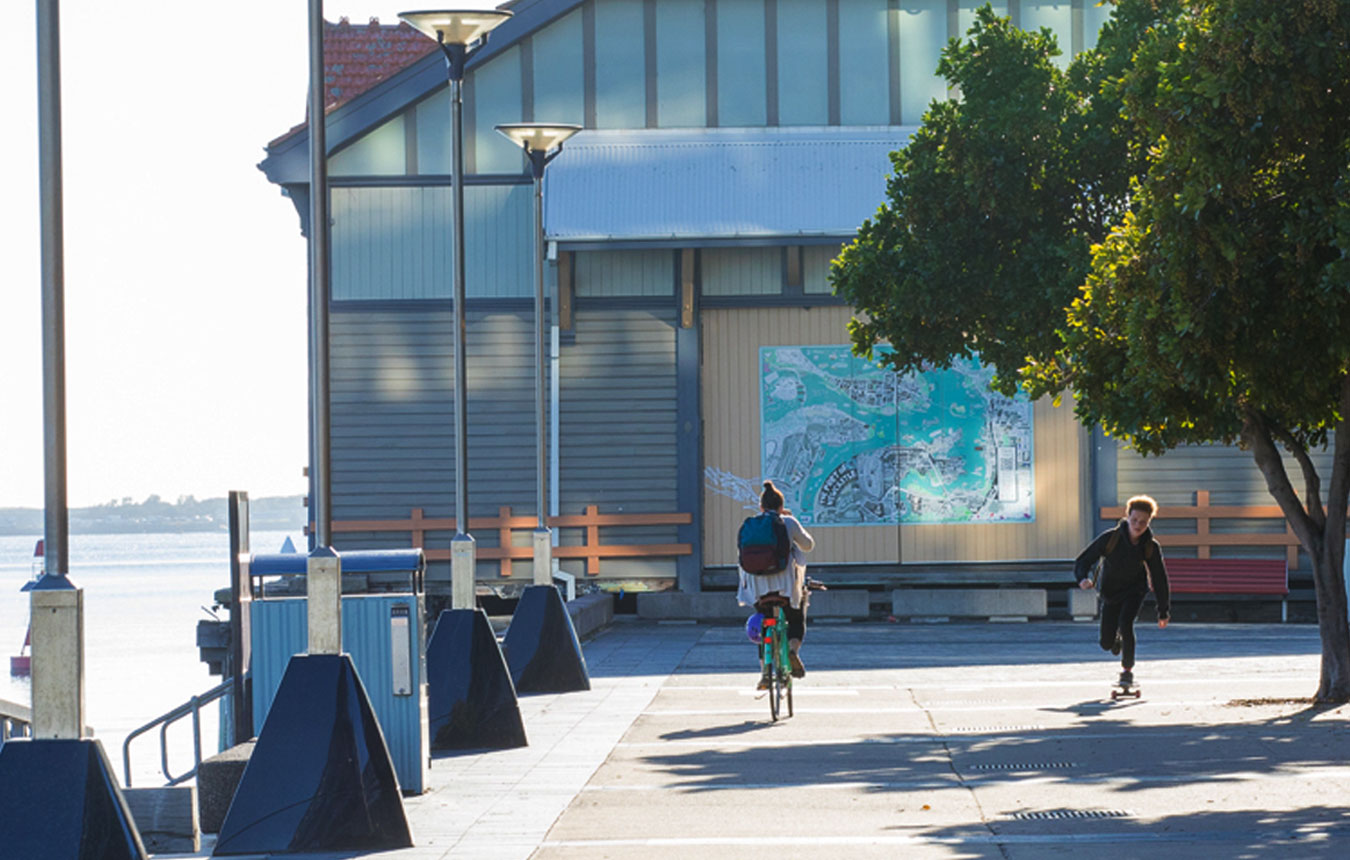 Honeysuckle is changing.
A section of the northern pedestrian footpath has been closed by Doma Group during the construction of Lume Apartments. Temporary diversions are in place and pedestrians are being directed to use the southern footpath until it is reopened.
A new promenade diversion from the Marina through to Honeysuckle Drive has also been put in place while seawall works are undertaken.
Follow the signs and stay safe! 
Pay attention to signage and instructions from traffic controllers while the safety diversions are in place.
Work has commenced to upgrade the water feature in Harbour Square, ensuring ongoing compliance with public health legislation.
Work commenced in May 2019 and is expected to take up to 3 months. It includes:
cutting existing concrete and removing pavers;
excavating new trenches for new pipework and electrical conduits;
supplying and installing a new plant room and control switches; and
installing variable water jets and lighting.
Temporary fencing has been erected around the site, and a work method has been established to minimise noise and disruption as much as possible.
For more information: 
Refer to the Works Notification - Download PDF
Image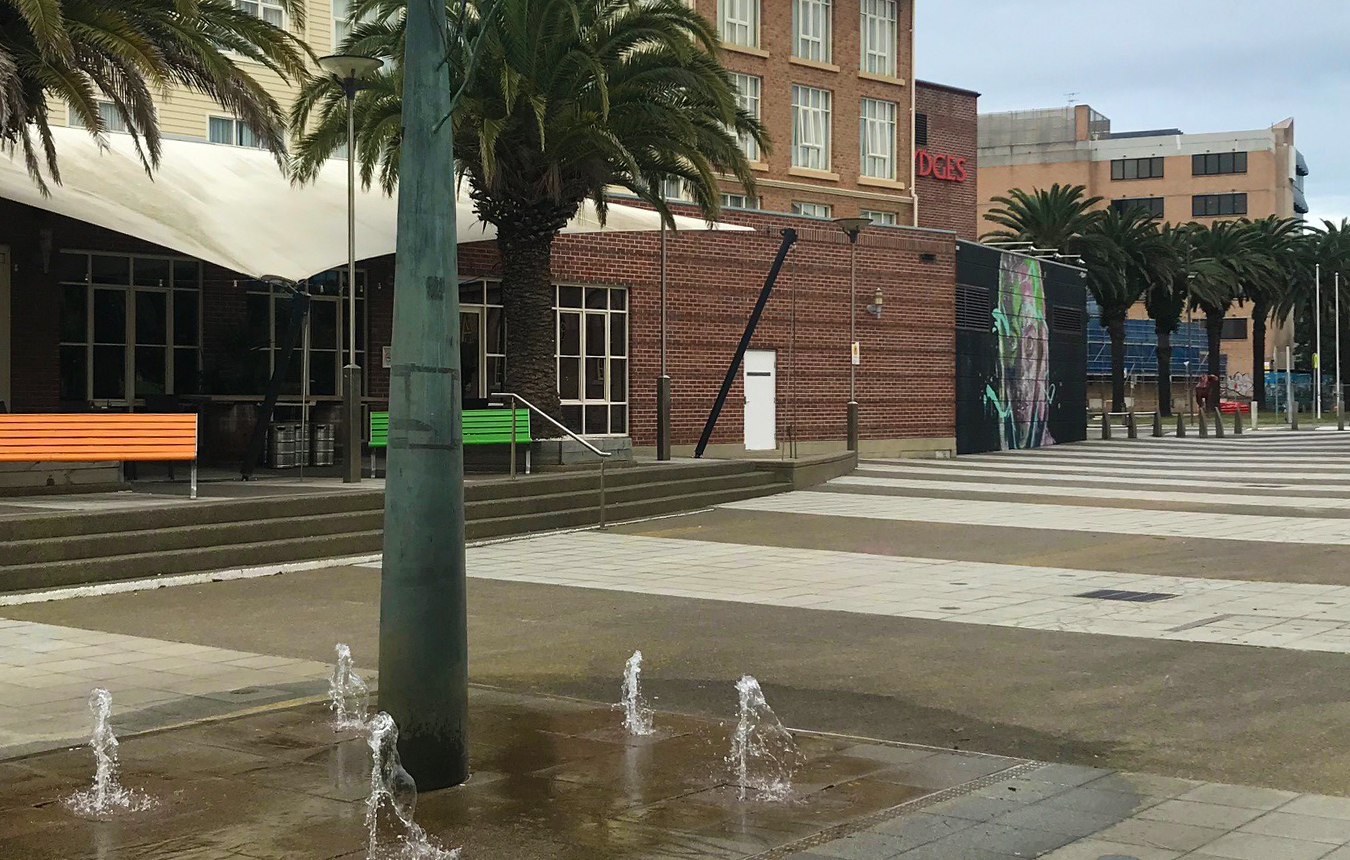 Lee Wharf A Repairs
HCCDC has been undertaking repairs of the Lee Wharf A building since November 2018. 
These works include making repairs to the building foundations and adding new piles to prepare to extend the deck. Work is expected to be completed by October 2019.
Harbour Square Pontoons
Two extra floating pontoons at Harbour Square have recently been constructed to host more boats in Honeysuckle.
To book a berth, visit honeysucklemarinanewcastle.com.au
Image